NodeReal Weekly Newsletter - May 31, 2022
Missed our news last week? Here are the highlights for you!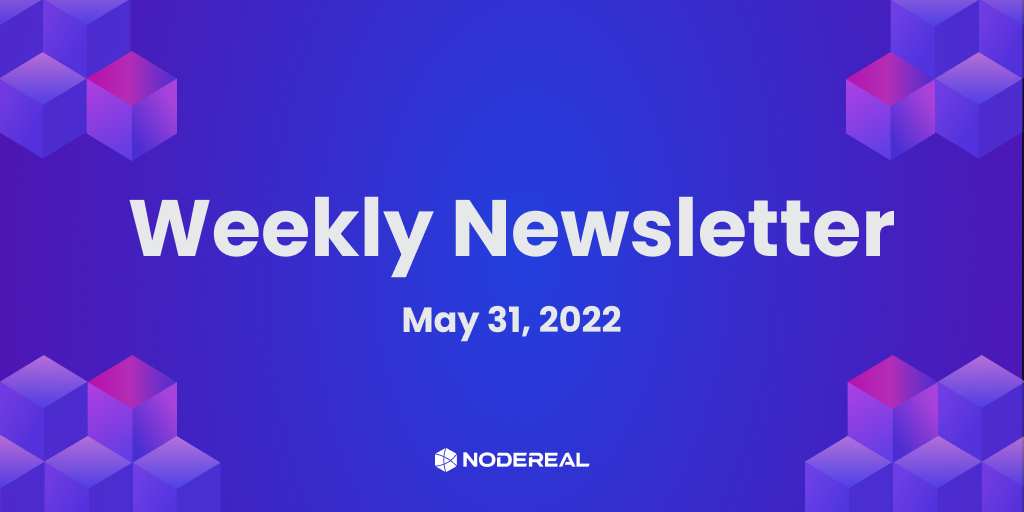 Dear Community,
Missed our news last week? Here are the highlights for you!
Over the last week, NodeReal has seen tremendous milestones. In terms of products, MegaNode now supports the fastest and most reliable archive services for Ethereum. We also announced our $16M Series A funding news with Sky9 Capital and our partnership with Celer Network to boost Blockchain interoperability.
Find out more details below.
Products
The Most Powerful Optimized MegaNode Archive Service is now LIVE on Ethereum New Release!
Being the fastest and most reliable archive service provider, NodeReal's MegaNode now enables developers to access all the historical data of both Ethereum and BNB Chain. Read more.
New Release!
Semita — a one-stop trustworthy and scalable blockchain platform for business, Semita enables you to run high-performance projects through building on BNB Application Sidechain (BAS) without needing to invest time and resources in setting up enterprise-grade infrastructure.
MegaNode Team — a team account used for collaboration, you can create, invite, or join a team with your personal MegaNode account. All the members in the same team will see the same apps created in that team account.
Status Page — the Status page is for you to easily track the MegaNode performance on multiple chains, at any time. As you can see from the green bars below, we operate with 100.0% uptime over the past 90 days.
Event
NodeReal Loyalty NFT giveaway campaign Round 2 - RealHero is still ongoing
Eligible users can claim your NFT.  Join our exclusive Discord channel, and receive a gift pack! Claimable Period: May 17-May 31, 2022.  Read more.
Just a teaser here, NodeReal will attend two offline conferences in June - NFT Summit Vietnam with BNB Chain and ETHPrague! ​​Can't wait to see our community and partners in person.
Partnership
NodeReal Partners With Celer Network to Boost Blockchain Interoperability
Pleased to share the news that we're now partnered with Celer Network, a world-leading interoperability platform, to boost the adoption of their cross-chain messaging protocol and their layer-2 scaling solution. Read more.
NodeReal in the News!
NodeReal Announces $16M in Series A Funding Led by Sky9 Capital, to Build One-Stop Infrastructure for Web3
We're excited to share this milestone - NodeReal has secured $16 million in Series A funding, led by Sky9 Capital, a world-leading venture capital fund dedicated to supporting disruptive technologies and outstanding innovators. We are featured on Bloomberg, Nasdaq, Yahoo, and more media outlets. Read more HERE!
Tutorials
We've created a handful of tutorials for you to learn about Web3 development and get started with us. For example, how to issue Non-fungible tokens (NFTs) on BSC BAS Aries Testnet using the Black IDE, read more here.
Last week was filled with a handful of our latest releases and exciting news. Please stay tuned for more updates in next week's newsletter. See Ya.
Join Our Community
Join our community to learn more about NodeReal and stay up to date with us!