NodeReal Weekly Newsletter - June 14, 2022
NodeReal has had an eventful week with multiple product new features released, new partnerships, and events. Here's a summary for you to quickly catch up on.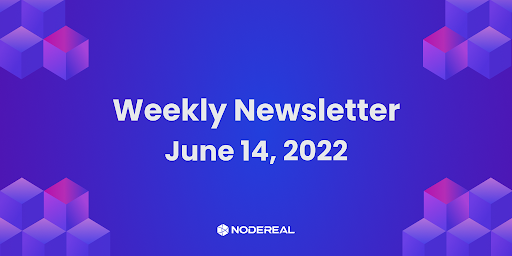 Dear Community,
Welcome to this week's newsletter.
NodeReal has had an eventful week with multiple product new features released, new partnerships, events, and an expanding presence in the market.
Missed all that information? Here's a summary for you to catch up on!
Product & Services
Connect to wallet: MegaNode has integrated MetaMask to offer you a seamless and smooth user experience. All you have to do is sign up for an account and one-click to add our RPC API to your wallet. Refer to the documentation here.
Public API Key: To help users who want to try our services without registration or login steps, MegaNode has released API keys for public use!
Enhanced APIs: We've also released several enhanced APIs for BSC (BNB Smart Chain) mainnet. The following two APIs, help you to get all transaction receipts for a given block hash and for a given block number, respectively. We will be soon supporting enhanced APIs for Ethereum as well.
Partnerships
NodeReal has partnered with CUBE, a world-leading blockchain entertainment platform under Netmarble F&C. This partnership is powered by our Semita, a one-stop trustworthy, scalable blockchain platform for business, and aims to help CUBE to bring revolutionary entertainment to BNB Application Sidechain (BAS). Read more.
Events
ETH Prague, June 10-12: NodeReal sponsored and attended ETHPrague, one of the most exciting Web3 conferences happening last weekend. We are beyond excited to see Ethereum builders around the world sharing the same Web3 vision with us. Check out more videos about this event on our Twitter.
Events Coming Soon!
Blockchain Malaysia, June 24-26: NodeReal will be attending the Blockchain Malaysia Get Connected 2022, and Freddie, our Operations Director will give a speech out there. Come find us by T-shirt and chat with us!
NodeReal Discord AMA, June 17: Meet with our investor Sky9 Capital. Remember our exciting $16M Series A Funding News in May? Come and join us on Discord AMA this Friday for the insider news! Not in our Discord yet? Come join us now.
Before we wrap up, we'd also like to kindly remind you that the current MegaNode Growth Plan 3-month Free Trial Campaign is coming to an end! New users who register after June 17 will not be able to enjoy a 3-month free trial period. Sign up now and enjoy our super high performance which you can always track through our status page.
Lastly, thank you, as always, for being with us! For more updates, Please stay tuned for next week's newsletter. See Ya.
About NodeReal
NodeReal is a one-stop infrastructure and solution provider that embraces the high-speed blockchain era. It provides scalable, reliable, and efficient blockchain solutions for everyone, aiming to support the massive adoption, growth, and long-term success of the Web3 ecosystem.
Join Our Community
Join our community to learn more about NodeReal and stay up to date with us!