Loyalty Program: Bridging Web2 and Web3
From Web2 to Web3, Blockchain-based Application is the answer to the call for a more transparent and secure Loyalty Program Management.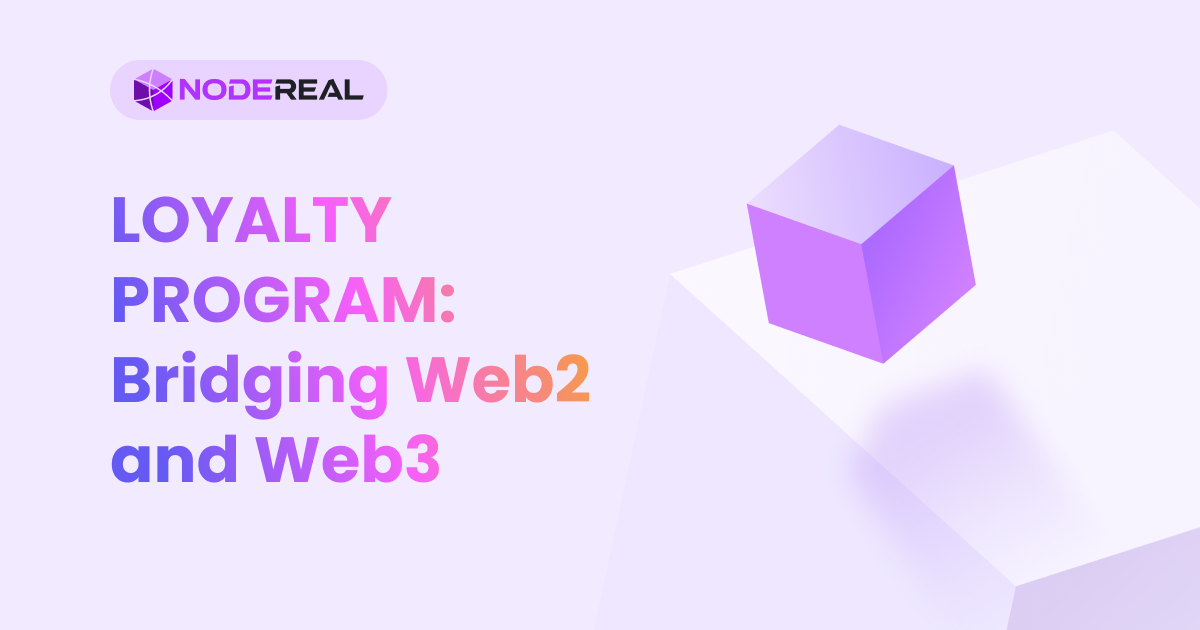 TL;DR:
In this article, we will cover:
What are the limitations of the traditional loyalty program?
What is the Blockchain-based Loyalty Program (BLP) and why do Web2/Web3 need them?
How will the system look like and how it increase adoption?
How does NodeReal supercharge the solutions for potential customers?
1. Introduction
Brands' loyalty programs have been around for ages, as the benefits of retaining and recurring existing customers by far trump the costs of acquiring new ones. Growth marketing is ever-evolving and new technologies are constantly being introduced to make it more efficient and secure. Blockchain is revolutionizing the way, and loyalty programs (LPs) are redesigned to harness the power of blockchain. Loyalty programs have been a solution for brands to increase retention and engagement for their customers, and while it is not a new concept, it is transitioning from Web2 to Web3.
Starting from Web2 adoption, like Delta SkyMiles, and Amazon Prime, to the adoption of Web3 wizards (Galxe loyalty), and the emergence of Blockchain-based loyalty programs for Web2 recently, like Starbucks Odyssey, Cha Cha Matcha and BMW. Brands are trying to find a new growth engine for their businesses.
As we all know that the main goal of loyalty programs is to offer benefits both for customers and brands. However, statistics show that  80%+ of brand loyalty points go unused, which means both customers and brands are experiencing friction and inefficiency from traditional loyalty programs. ​​
Challenges of Traditional Loyalty Programs
The essence of loyalty programs is to increase the Lifetime value (LTV)  for customers and cross the chasm between customers and brands. But the CAC (customer acquisition costs) is increasing, the engagement rate is low, running in a closed system and free service is eating the margins, and loyalty programs can't achieve the growth goal.
Fragmented loyalty systems and relationships will reduce customers' engagement.
The redemption process for existing loyalty programs is unclear and overcomplicated with limitations for customers to use these rewards, and the redemption rate is less than 20%.
Brands tend to run their own system of loyalty programs, consisting of various formats, and many terms and conditions. As a result, it reduced customer engagement and increased the incurred system costs. For example, if you are a Singapore Airlines VIP member, and you have 10K miles points. You cannot use these miles points to exchange for a cup of Starbucks, as the memberships between Singapore Airlines and Starbucks are not connected.
Lack of transparency and ownership.
Another issue for traditional loyalty programs is that the rewards are not traceable and sometimes customers don't even know they already have. At the same time, there are too many similar programs running, so it will be quite easy for customers to switch from one to another loyalty program.     
Scaling difficulties.
Because the existing loyalty programs are running in closed systems [2], most of them don't create loyalty as much as captivity. It's hard and painful for partners to add value on top of a loyalty program, due to the complex tech limitation, including multiple tech stacks, sales systems, CRM systems, data management, etc. It's difficult for brands to enlarge the impact and ROI in a closed system, and it seems that existing systems work in walled gardens.
2. From LPs to Blockchain-Based LP as a service
A blockchain-based loyalty program is a secure, decentralized, and tamper-proof platform that allows brands to store and manage customer data, track customer behaviors, reward customers for their loyalty, and finally increase engagement and LTV. This type of program is powered by blockchain technology, which is a distributed and open ledger system that records and stores data securely.
In addition, blockchain-based loyalty programs are designed to be user-friendly and accessible. Customers can easily view their rewards and redeem them with just a few clicks. Brands can also use these programs to track customer data, allowing them to better understand their customers' needs and preferences, which will be able to leverage both on-chain and off-chain behaviors to amplify the benefits for customers and brands.
2.1 Connect Real-world to Web3 by SBT and NFT
It's exciting to see the growth of utility-based NFTs, where NFTs act as tokenized credentials that can access the value inside and outside of a loyalty program [3]. The nature of NFTs makes it convenient to connect with the physical world, and the interoperability makes it clearer, more logical, and streamlined to redeem physical goods and services, and gain extra benefits in games/metaverse.
NFTs act as bridges to connect web2 and web3, and the universe for value enables security, ownership, and transferability. The NFT-powered loyalty program is an innovative tool to help brands further extend their reach and presence. Considering lots of brands today are selling/minting NFTs - Nike's initiative "SWOOSH", Disney's navigation to NFT, Reddit NFT, access unlocked by NFT will be enlarged by applying into loyalty systems, and which is straightforward to identify the credentials to certain benefits or rewards.
Furthermore, Soulbound tokens (SBTs) are the keys to building the decentralized society's identity and trust system [4]. SBTs are born to be an essential part of bottom-up and community-driven governance systems in Web3, which will help to track all the on-chain activities and act as credentials for customers to earn and redeem rewards in blockchain-based loyalty programs.
NFTs can support data capturing, customer engagement, and reward redemption in blockchain-based brand loyalty. In a nutshell, a loyalty program is not built on one single NFT, but a collection of NFTs for various use cases and governance.
NFTs represent ownership - SBTs' non-transferable features can serve as an access layer to a loyalty program, and they can be bound to individuals.
NFTs as digital credentials - tracking your behaviors, recording on-chain and off-chain interactions, and rewarding customers based on proof of credentials.
NFTs provide accessibility - it's a getaway for customers to get exclusive product services, social benefits, etc, based on NFTs' ownership. And it's also a gate to x-to-earn rewards and entertainment, which will lead to more opportunities in the future, like airdrop, and exclusive community engagement.
2.2 Frameworks of Loyalty Programs
Many institutions and big brands have already launched initiatives, but we still can't get the one-to-all framework by now. At the same time, Web3's top players are working on providing structured approaches to blockchain-based loyalty programs.
Here is an easy-understanding sketch with four major pillars (inspired by reference[7]) for brands to explore more possibilities in blockchain-based loyalty programs:
Infrastructure Partners: Web3 infrastructure landscape is straightforward and comprehensive enough, varying from blockchain as a service platform to solution providers and basic web3 infra providers[1].
Blockchain-as-a-service providers: We discussed in a previous blog [5], there are multiple options for blockchain selection, including monolithic L1s, monolithic L2s, app-specific L2s, and sidechains. Usually, the large Loyalty program platform will set up its own blockchain to manage its customers and their rewards data, which can have better controls on data privacy, performance, and cost-efficiency.
Web3 solution: These loyalty program platforms must have the ability to provide end-to-end service, starting from consulting, design, development, and operation. This one-stop solution builder can accelerate the process of the Go-To-Market.
Wallet Management: where brands can work with to manage and custody their loyalty tokens, and even provide a similar web2 experience to onboard both web2 and web3 customers.
Web3 rewards/credential platforms: They can help design the traceable and redeemable NFT rewards system by integrating with on-chain and off-chain activities. It's scaleable by connecting with partners' ecosystems and open to the entire ecosystem. By leveraging these platforms, brands can explore more engagement possibilities and the "x-to-earn" model, which will dramatically increase interoperability and engagement.
Token utilization powers the value capture: token utility is the key to the success of web3 loyalty programs. The NFT-based utility can span across the physical world, to social engagement, x-to-earn rewards, and a tool to expand the partnership. How to design your product-backed rewards, and social-based exclusive benefits, thus introducing more utilization (Metaverse, Defi, and GameFi) in web3 is critical for your program.
Data insights supercharge credential building: credential or reputation system is the basis to reflect a member's role, engagement, and activities to a loyal program and brand.
Governance: Soulbound tokens are at the heart of the platform, which will offer more ownership and efficiency to the governance.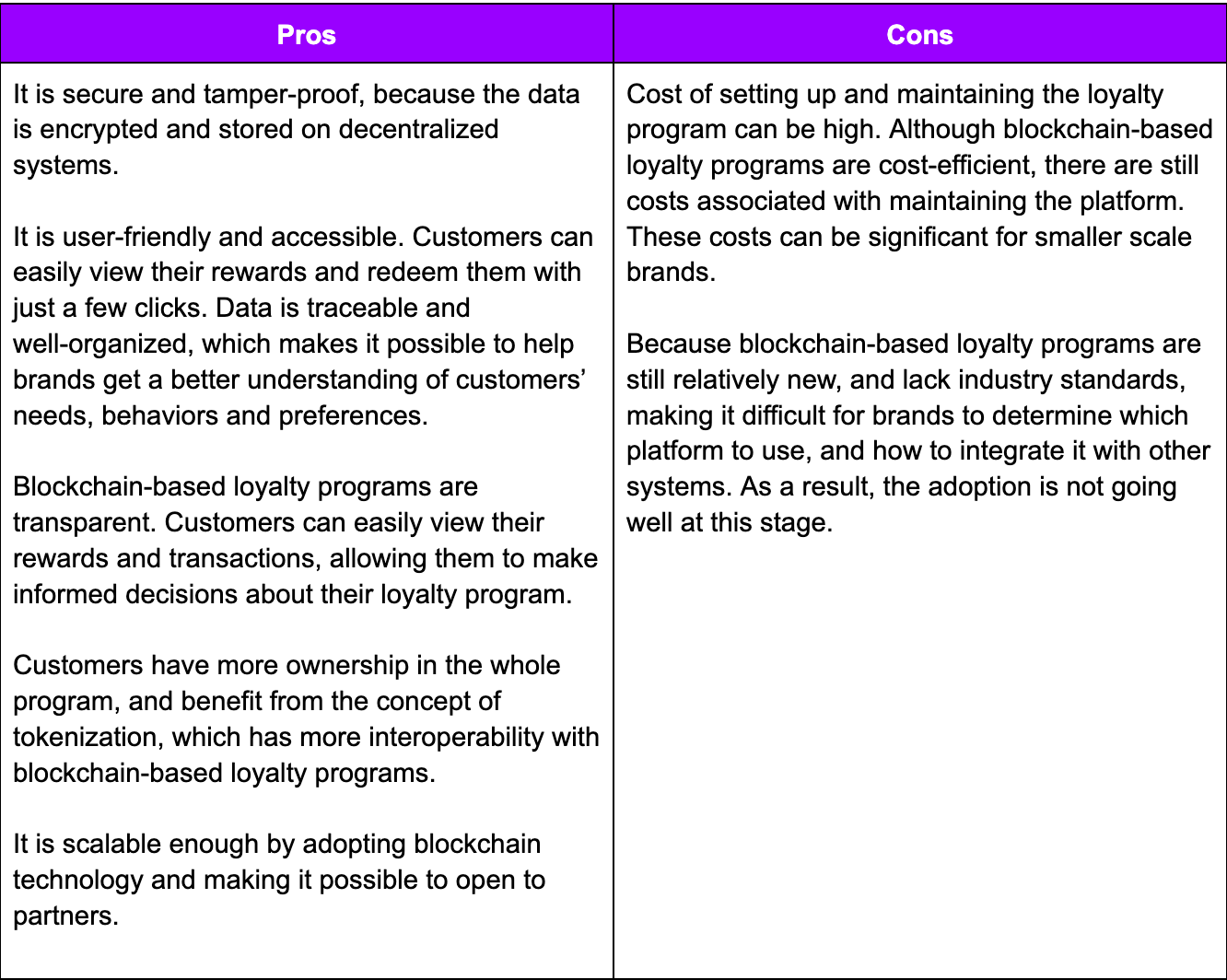 3. State of the Art
This industry is in its infancy, therefore, lacks standards, but some players are continuing to explore the most suitable and universal solutions for blockchain-based loyalty systems.
3.1 Galxe - is leading the next-gen credential paradigm
Galxe is one of the leading players in SBTs and the on-chain credential ecosystem to date, and it's a credential infrastructure that empowers brands to build better communities and products in Web3. Galxe is aiming to build a credential network of user behavior data on-chain and off-chain in the web3 era. For on-chain credentials, curators can contribute with subgraph queries or static snapshots. Galxe integrated with data sources such as Snapshot.org, Twitter, and GitHub for off-chain credentials.
Until now, Galxe already helped lots of Web3 wizards build loyalty programs. Here is the overview of case studies. Based on the top-tier credential network, Galxe has the ability to provide innovative blockchain-based loyalty programs for the industry, by providing user engagement to earn loyalty rewards (Reward system), comprehensive data-driven method (Offline-to-Online experience), and drive the loyalty campaigns for user growth/retention (Community building).
3.2 Qiibee - The Leading Blockchain-Based B2B Rewards Marketplace
Qiibee is a rewards marketplace and can maximize the value of your loyalty program by buying and selling rewards on its marketplace as well as tapping into an ecosystem of millions of potential customers. It's a loyalty portal for brands where they can connect to other brands to provide joint loyalty programs.
They can help brands instant access to the loyalty world, the integration is simple and fast, and they can also provide blockchain infrastructure to ensure transparency and efficiency. Coincoff, Coca-cola, and many more are teamed up with Qiibee to embrace the power of blockchain-based loyalty programs.
3.3 Hang - Web3-powered membership platform
Hang is a membership platform that supercharges loyalty and reinvents how brands interact with their customers.
Hang's membership platform offers brands a path to building long-lasting relationships with their customers in a more sustainable, economical, and modern way. That's because membership programs built with Hang take advantage of two core features of NFTs that enable new paradigms in customer incentivization and engagement: liquidity and Interoperability.

Hang provides brands with multiple types of loyalty: subscription and free-to-join. And allow customized rewards for your customers. They already worked with the likes of Budweiser, Pinkberry, Cha Cha Matcha, Bleacher Report, and Superfly (Outside Lands and Bonnaroo) for SUPERF3ST[6].
4. Conclusion (Future of BLP)
Blockchain-based loyalty programs are still emerging, and there is no industry standard yet. Web3 is transforming how brands are thinking and this wave will continue to accelerate the adoption. As a brand owner, you should only focus on your businesses and your customers with optimized loyalty programs.
NodeReal will continue to collaborate with our partners like Galxe to optimize the loyalty program platform including:
Proposing high-end industry standards for the loyalty program
Bridging on-chain and off-chain rewards data using modular blockchain solutions
Providing high-performance NFT indexing APIs
Experimenting with Our Loyalty program as a service solution.

5. Reference